Call to Adventure is a game about choices. Do you begin as a Peasant or a Noble? Do you train your Strength or seek out Wisdom? Do you follow the path of a Hero or Antihero? Will your backstory ultimately be tragic or triumphant? Call to Adventure is a game from Brotherwise Games. We partnered up to localize it to the French speaking market. Check out their homepage to know more about the original edition: https://www.brotherwisegames.com/about-call-to-adventure

How does it work?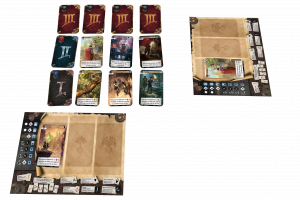 Call to Adventure is a tabletop game in which players compete to craft the hero with the greatest destiny. Play cards to build your character, cast runes to face challenges, and choose whether to follow a path of heroism or villainy. The game plays from 1 to 4 players.
On every step of your hero's journey, you'll have to choose between immediate rewards and long-term potential. Do you push your luck and face a daunting Challenge now, or build your Abilities until you're truly ready?
Specifications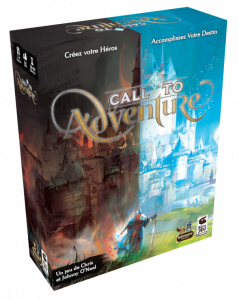 From 1 to 4 players
14 years old and older
around 45 minutes
Designer: Chris and Johnny O'Neal
Artist: Matt Paquette
Publishers: Brotherwise Games and La Boite de Jeu & Friends for the French market
Distributor in France: Blackrock
Availability: July 2020
MSRP: around 37€
Content
45 Character cards
91 Story cards
44 Heroes cards
12 Solo cards
4 Player boards
24 Rune tokens
40 Experience tokens
French rules
Press kit