Call to Adventure is a game about choices. Do you begin as a Peasant or a Noble? Do you train your Strength or seek out Wisdom? Do you follow the path of a Hero or Antihero? Will your backstory ultimately be tragic or triumphant? Call to Adventure is a game from Brotherwise Games. We partnered up to localize it to the French speaking market. Check out their homepage to know more about the original edition: https://www.brotherwisegames.com/about-call-to-adventure

How to play?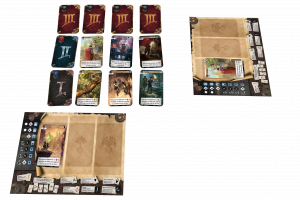 Call to Adventure is a tabletop game in which players compete to craft the hero with the greatest destiny. Play cards to build your character, cast runes to face challenges, and choose whether to follow a path of heroism or villainy. The game plays from 1 to 4 players.
On every step of your hero's journey, you'll have to choose between immediate rewards and long-term potential. Do you push your luck and face a daunting Challenge now, or build your Abilities until you're truly ready?
Specifications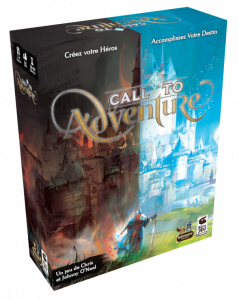 From 1 to 4 players
14 years old and older
around 45 minutes
Designer: Chris and Johnny O'Neal
Artist: Matt Paquette
Publisher: Brotherwise Games and La Boite de Jeu & Friends for the French market
Distributor in France: Blackrock
Availability: July 2020
MSRP: around 37€
Contents
45 Character cards
91 Story cards
44 Heroes cards
12 Solo cards
4 Player boards
24 Rune tokens
40 Experience tokens
French rules
Press kit


Warning: this expansion needs the Core Game to be played.
The Kingkiller ChronicleTM, by Patrick Rothfuss, is a story within a story. Over the
course of The Name of the Wind and The Wise Man's Fear, a narrative unfolds as the protagonist tells the tale of his life. These books were a key source of inspiration for Call to Adventure, a game about character development and storytelling. So it's fitting that the game's first expansion takes you to the Four Corners, and gives you the chance to create a story in the world of Kvothe, Denna, Auri, and the Chandrian.
Call to Adventure: The Name of the Wind is your chance to become a Cealdish trader, an Edema Ruh trouper, or a Vintish noble. Perhaps you'll survive the streets of Tarbean, attend The University, venture into the Fae, or earn your Pipes. For fans of the books, this is a chance to follow in Kvothe's footsteps… or choose a different path. For anyone who loves heroic fantasy, this set includes new character options and introduces Naming, a system of magic driven by deep understanding.
How to Play?
Call to Adventure: The Name of the Wind does not change the core objective of the game. Your goal is still to become the hero with the greatest Destiny. This expansion includes new cards that change the game's theme and setting to match the Heroic Fantasy world of the Kingkiller ChronicleTM. It also adds one new rule: Naming.
When failing a challenge, you can try to learn a Name. If you succeed, this new knowledge will help you in your future adventures concerned by the mastered element: Wind, Fire or Iron.
Specifications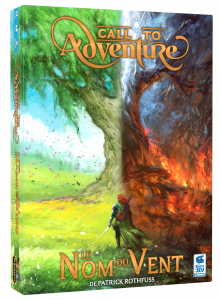 From 1 to 4 players
Forr 14 years old and older
Between 30 and 60 minutes
Designers : Chris et Johnny O'Neal
Illustrators : Matt Paquette, Adam J. Marin, Marta Danecka, Artem Demura, Logan Feliciano, Gal Or, Chris Cold, Jordan Jardine, et Terren Yvon
Publishers : Brotherwise Games, La boite de jeu & Friends for the french market
Distributor en France : Blackrock
Availability : October 2021
MSRP : around 20€
From the book "The Kingkiller Chronicle – Name of the Wind" written by Patrick Rothfuss, Bragelonne 2009 TM
Contents
9 Character Cards
53 Story Cards
16 Hero/Antihero Cards
5 Solo/Coop Cards
1 Naming Board
12 Naming Tokens
1 Rulebook
Rules
PressKit