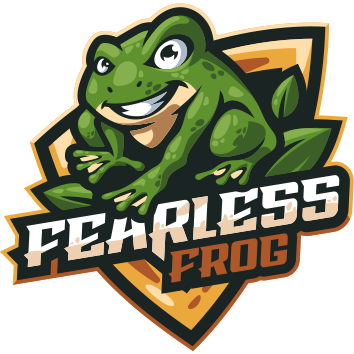 Meet Fearless Frog!
The new boardgame brand, specialized in localization is coming!
Led by Greg and Thib from La Boite de Jeu, its goal is to offer the French market rare and wonderful games found all around the globe.
Continuing and deepening the work done by "La Boite de Jeu & Friends", which published multiple titles such as Dinogenics, Enquêtes à Los Angeles, Riftforce, Les Hauts Fourneaux, Call to Adventure, Whistle Stop or Whistle Mountain; Fearless Frog and its team will work hard to offer quality games that we love, and that we hope our french players will love too 🙂
The very first Fearless Frog's title will be the highly praised Dinosaur World from Pandasaurus Games!
Don't hesitate to follow the news and releases on our Facebook page, or on Instagram :
https://www.facebook.com/profile.php?id=100085581607819
https://www.instagram.com/fearless_frog_games/
For any question about Press Relations related to our games, you can write to thibaut@laboitedejeu.fr
And if you are interested in localizing your games to the French market, please write to greg@laboitedejeu.fr
Have fun!