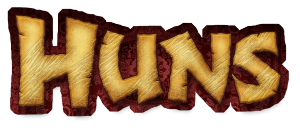 Huns is a game where you try to be the next Khan, ruler to the Huns. Perform rewarding raids, resist plagues, recruit powerful mercenaries, collect equipments, discover wonderful treasures or plunder available resources to become the greatest leader ever known!
How to play?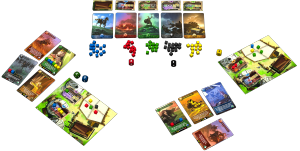 Huns is a game of dice drafting. When it is your turn to play, you will have to choose a die among others. The dice that will remain will be available for your opponents. Will you choose what you need the most, or what you don't want to give to your opponents?
After picking a die, you will have to choose between two actions: drawing a card or taking cubes. Cards will grant various abilities, while cubes will make your treasure grow and bring you closer to victory. The rules are simple, yet the strategies are deep! Cards can be combined, and only the smartest player will take advantage of this to become the new Khan!
Specifications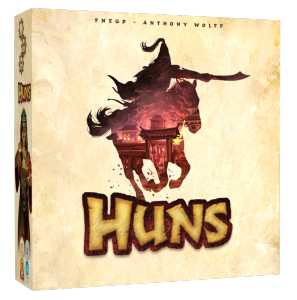 From 2 to 4 players
For 14 years old and older
Around 45 minutes
Designer: Fneup
Artist: Anthony Wolff
Publisher: La boite de jeu
Distributor: Blackrock
Availability: Q1 2018
MSRP: around 35€
Video
Artworks
Contents
12 Equipment cards
12 Raid cards
12 Mercenary cards
12 Curse cards
12 Treasure cards
4 individual boards
32 Carriage cards
5 colored dice
120 wooden cubes
1 First player token
1 rule book
1 FAQ leaflet
1 score pad
Press Kit