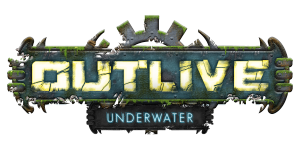 2084: It has been 5 years now that the clans struggle to survive in their underground shelters. Lately, strange robots have been spotted near the river. The brave Conrad Bordage started an investigation to discover their provenance. What a surprise! They are controlled by a group of scientists living in a submarine base, and no one knew this all time!
How does it work?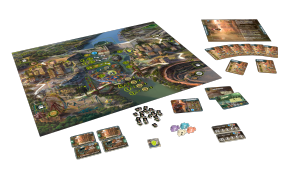 This expansion introduces a new Location : the Submarine Base. By going there, you will be able to perform new actions, such as building a Robot, raising the radioactivity in your opponents' shelters, or recruiting Scientists. It also includes a new Leader, new Events and a new room for your shelter. Forget everything you know about Outlive, and rethink you strategies if you want to guide your clan to the victory!
This expansion also includes a Solo mode, to play Outlive alone (if all your friends succumbed to the radioactivity)!
Infos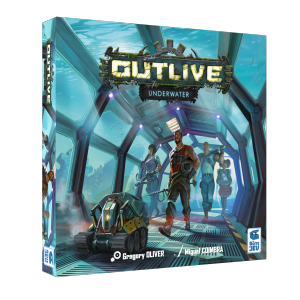 From 1 to 4 players
For 14 years old and older
Designer: Gregory Oliver
Artist: Miguel Coimbra
Publisher: La boite de jeu
Distributor: Blackrock Export
Availability: December 2018
Contents
1 XL main board
4 Robot meeples
1 Leader card
2 Event cards
4 Equipement tiles
2 Room tiles
24 Scientist tokens
1 Vegetable token
1 Horde board (solo mode)
8 Horde cards (solo mode)
1 rule book
Rules
Press kit